ANDREI TARKOVSKY: BAM Cinematek just wrapped up a 2-week run of The Sacrifice and I've been on a Tarkovsky bender watching his films on Hulu. But I'll be the first to admit that when I first started watching his films (Solaris), I was confused. I didn't understand what was going on and the pacing was not what I was used to for a sci-fi film. But the power of the film's sounds and imagery remained deep inside me and I couldn't stop wondering about what I saw and the hauntingly beautiful images that appeared throughout the film. As I watched more of his films, the more I realized that Tarkovsky's films are a rich meal of visual poetry for those willing to savor his cinematic flavors. It is no wonder why he is worth the time to listen to when it comes to creating art.

Even if you haven't watched all of his works, you have probably heard of him and his influence on cinema. To get a glimpse of his genius for creating visual poetry, watch this short collage of his works, Tarkovsky: Life as a Reflection.
VIDEO ESSAY - Tarkovsky: Life as a Reflection from Nelson Carvajal on Vimeo.

Advice on Directing (excerpt)
A Message to Young People (excerpt)

Lessons on Directing (short analysis)

Behind the scenes footage of "The Sacrifice"- directed by Michael Lesczczylowski (1988).


A Poet in the Cinema (1983)

A BBC Arena Production, broadcasted in 1987.
Tarkovsky's list of 10 favorite films (1972)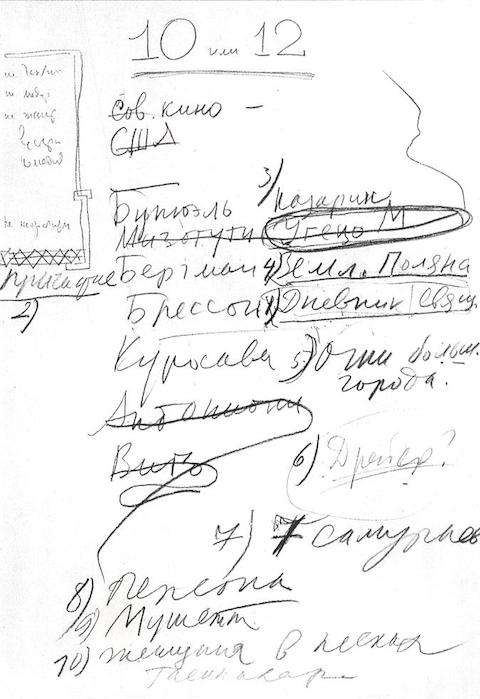 The fruit of his internal deliberations reads as follows: